scary current affair guy...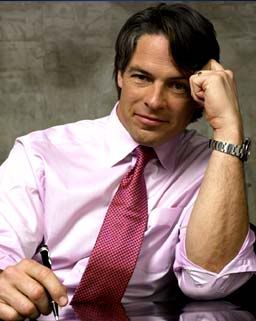 See? Crazy scary! He's pretending to write on a bare table.

Is anyone else but me moderately freaked out every time they stumble upon
A Current Affair
? Let's be honest. In its first incarnation, the show was pretty weird. But today's version just takes the strange cake. It's about 10% news and 90% Huh? Is their daily news meeting a game of "Pin The Tail On the
Donkey
Possible Story That Might Be Seen As News" or what??
It doesn't really help that the show's news anchor also scares the living bejesus out of me. I won't even print his name because I'm
that
afraid he uses Google. But I swear I saw this guy at the Scientology Center passing out fliers last year. He's strange. He's scary. And I think he really really likes his voice (which is also strange and scary). And he does this thing where he breaks "the fourth wall" of journalism a lot and just starts rolling his chair all around the newsroom. Like he'll be talking about famine in Africa at the desk and he'll stop to ask when everyone's ordering lunch. I saw it happen. I'm not crazy. He will break "the fifth wall" someday and just crawl through the TV screen like Samara from
The Ring
and kill someone. Trust me.
Last night's episode totally flew off the X and Y axis's and went into Z axis territory. They started talking about the
groom guy who disappeared off the cruise ship
. Then suddenly they went to the field reporter who was talking to everyone on the cruise ship. Then everyone who had ever seen the cruise ship. Then people who could spell "cruise ship." Then they talked to the actual cruise ship (without an interpreter). Then some dolphins swam by and started yelling things. And I just didn't know what was happening so I just unplugged my TV and threw it out the window.
Added:
They're now asking people to
send in their "most outrageous" car wash videos
!! Am I on the same planet as everyone? Is this not weird? That mailing address probably goes straight to Scary News Anchor's house where he sits down in his basement (
Seven
-style) late at nights, creating a mega-carwash mix for his personal viewing pleasure. Don't be fooled.