robots (unrequitedly) love alicia keys...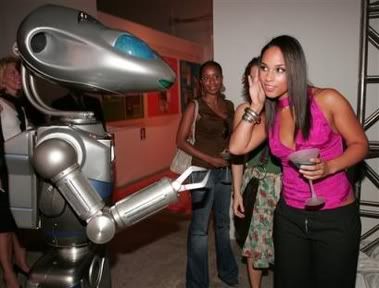 I want to believe in a world in which any robot (white, black, brown or metallic), can go up to Alicia Keys, just say hello and get his robomack on.
But look at her. Just look. She's playing with his emotions. He's right there
in it
and I don't think she's picking up what he's putting down. He'll probably spend all night complimenting her outfit, buying her appletinis and telling her how much he really enjoyed
The Diary of Alicia Keys
. She'll smile and nod and playfully stroke his grappling hook hands. He'll think, "Wow, Alicia Keys is totally diggin' me. Maybe I
do
have a chance." Then she'll say, "Hey, me and my girls are going to the restroom. I'll be right back." And then he'll wait. And wait. And wait. Final call will pass by and he'll just stand there. All buzzed and robotic-like. Once he realizes he's been duped, he'll probably drive up Mulholland Drive and run off a cliff. I've seen it happen. Robots never survive in this town. It's really sad. And all because Alicia "Tease" Keys played with his emotions.