uhhh, like, caption this or something...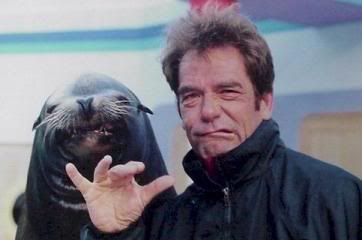 WTFever, blogger person. You know what? I
don't want
to caption your photo. How bout that? You're telling me you're too busy to write a caption yourself? Not one word? Not even a fake word like "jabbleboo" or "regerallahplex" or something? It doesn't even have to be funny. This isn't rocket science. This isn't even first grade science, where you walk outside in a single file line and collect leaves and that's the whole lesson for the day and everyone gets A's. This is the terribly unoriginal world of celebrity gossip blogging!! Hundreds (sometimes thousands) of people come to your site EVERYDAY (sometimes refreshing, refreshing, refreshing, several times a day???) to read the same gossip and look at the same pictures that everyone else is posting on their sites (which is practically identical to yours but with different colors). And that's all you got? "Caption this?" That BLOWS. How about getting one of your interns to do that? Which leads me to, why the shit do you have interns? What in the hell could they be doing? Watching you upload pics to your Imageshack account? Checking up on Ananova.com for you? Ananova writes terrible copy! My two-year-old cousin could do that. I'm sure you can figure it out, too. No? I have a inventive idea! Just copy their captions! Might as well, you know. Then we can gather all your site links up and blast them off into space, where I'm sure some alien being of some kind will find them, access the hyperlinks and say, "Dude, these are all the same. What a ripoff!" So then all the aliens will get mad at us because all our celebrity gossip sites are the same and they'll send tripods and spaceships and spacepods with little cuddly aliens to destroy the entire Internet AND us for not using our medulla oblongatas at all. Because, in my mind, nothing makes aliens more angry than humans not realizing their full potential. Even when it comes to captioning a picture of Lindsay Lohan buying gum and cigarettes. "Lindsay loves gum and cigarettes!!" There ya go. My gift to you.