harry potter camp was a bad choice...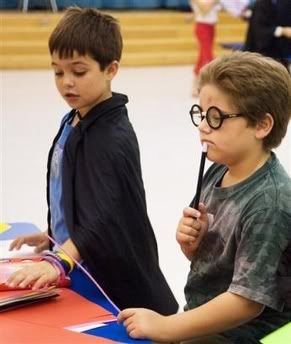 "Oh man. I hope the Associated Press doesn't take a picture of this."
Maybe it's just me, but
this camp
has beatdown on the elementary playground written all over it. Things have
really
changed since I read books as a little kid. I remember reading books and liking them. I even had a local library card. But I don't ever remember thinking, "Wow, I wish I could spend a entire week getting stalked by a scary kid-eating clown." Or, you know, "Damn if it wouldn't be fun if my mom and I got into an all-out battle for our lives with a rabid St. Bernard!!" (I was a young Stephen King reader). Hell, if I would have even suggested that I read books outside of requred school reading to my friends, I would have been hit with the eventual "UR A NEEERRRRRD!!" notes on my locker.
But you know what have been really cool as a ten-year-old kid?
Sports Illustrated Swimsuit Edition Camp
! I would have forced my mom to sign me up for that in a heartbeat. Just a fun easy-going summer camp, you know. And you'd get back to school the next session and have plenty to talk about:
Friend:
And then my dad died. It was a pretty rotten summer. How was yours?
10-Year-Old Me:
Oh, you know, average. I spent the entire summer chilling in the Bahamas with the SI Swimsuit team. Yeah, me and Kathy Ireland really bonded over our similar ideas on cognitive development and paradigm shifts. She's a huge Jean Piaget fan. And Elle..oh Elle. She's a paleoclimatology nut. Fascinating woman. Between partially topless shoots on the island, we couldn't stop once we got into discussing ice cores, tree rings and the stochastic process.
Friend:
HUH?
10-Year-Old Me:
I'm just kidding, dude. I
totally
saw their hooters, though!!
Friend:
AWESOME!!!
Not-Really-Related-But-Funny: Bible Storyland!!!