signs that al gore's new cable channel might totally blow...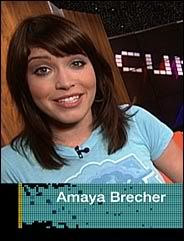 That third letter's an M, isn't it? Naughty, naughty Amaya.
1. Amaya from
Real World:Hawaii
is a host.
That's all I got.
This stuff
has to be a joke, right? Out of all the hosts in all of the world, Al Gore picked her? Is it a show about being annoying?? Being a psycho pseudo-girlfriend? Are there going to be subtitles on screen at all times so I don't have to listen to her talk? While she's at the desk, can we have Justin from
Real World: Hawaii
sitting just offscreen telling her how bad a person she is? That'd be a little cool, right? Is she going to be calling the correspondents in the field her "schmoopie woopies?" Can we get a recount? Can we look for annoying
but
hot this time? She's going to be crying a lot, isn't she??
BTW, this reminds me. Puck 4 CBS News Anchor!!