lost ups the mysterious ante...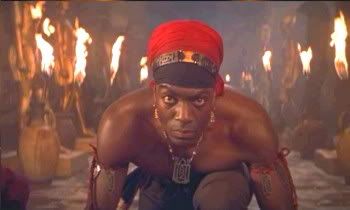 Akinnuoye-Agbaje, in "The Mummy Returns," practicing his "mysterious" face.
The second season of
Lost
starts on September 21st. From the minute the season finale aired back in May, fans have been clamoring for clues of what might happen next to the island survivors. Something, anything!!! And ABC finally answered all of our prayers today with this
groundbreaking tidbit
:
A new character, Emeka (Adewale Akinnuoye-Agbaje), will join the island. And...wait for it...he's "mysterious."
For anyone who's seen the show, this totally makes sense. There's a lot of characters so far on the show, but none of them seem mysterious. Wait a tic! They're ALL MYSTERIOUS!! Lock's mysterious, the Doc's mysterious, the little boy's mysterious, polar bears are mysterious, the newly opened tunnel's mysterious, the chubby guy's mysterious, the extras who have no lines are mysterious...hell, even the commercial breaks are mysterious in the way they jump up on you. Thanks for nothing ABC! I've got a few more HUGE ABC-show tidbits for you:
Extreme Makeover: Home Edition
- There will be some building. Then some crying.
Alias
- Someone will be pregnant. It won't be a male character.
Desperate Housewives
- The plumber guy? Still not a plumber. Shit goes down. Figuratively.
The Bachelor
- Some will get roses. Others will not. Boo hoo.
Wife Swap
- Families will continue whoring themselves out for obvious life lessons.
America's Funniest Home Videos
- Testicles are hit. Still not funny. Show, amazingly, goes on and on. Won't stop. Despite pleas sent to show disguised as "funny videos." From me. I'm serious. Stop.
Related: 10 Things I Think I Think About the Lost Finale