if brooke burke's marriage can't survive, what can????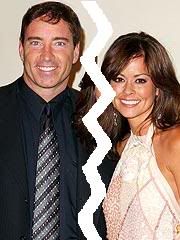 Well gosh damn. I guess life
isn't so great
with Brooke Burke. Seems she and her hubby, Beverly Hills plastic surgeon Garth Fisher,
have split up
. What gives? Why is everyone breaking up these days? Brooke had the right idea, marrying a surgeon. When I played MASH as a kid, I always had my wife's occupation as being a chef, a porn star, a pharmacist or a dental hygienist. All bases were covered. But does this mean Brooke is going to have to give back her fake boobs and the plastic surgery she's had done on herself in an
Extreme Unmakeover
as part of the settlement? That big reveal will happen in front of her family and they'll all disown her, except for her kids, who will cry a little but accept her in the end. Again, these are shows that should be on the air but aren't.
Also, Rene and Kenny Chesney are
having second thoughts
?? They're obviously mistaken. This isn't Frogger, guys. Sometimes you're on that log until it runs off the screen. You can't just jump around like that. I guess that particular marriage was doomed from the start because of the fact that, allegedly, it was a rebound marriage for Renee after breaking up with Jack White. Then of course he got married a week or two later. It's all awesomely strange and convoluted. It reminds me of the time I ran into an ex-girlfriend at Six Flags, a few months after we'd broken up:
Ex-GF: Oh, heeeeeeeeeeeey!! How are you?

Me: Oh, good and you?

Ex-GF: I'm good.

(Long awkward silence)

Me: So, what you been up to?

Ex-GF: Well...I got engaged.

Me: Really? That was...fast.

Ex-GF: We're in love.

Me: Oh...well...I'm actually engaged, too.

Ex-GF: Engaged? To whom?

Me: (pointing) Uhhh...to that girl over there.

Ex-GF: To the Dippin' Dots girl?

Me: Yes.

Ex-GF: Uh huh.

Me: She's nice. And she gets to take home the leftover Dippin' Dots at the end of the day.

Ex-GF: That's why you're marrying her???

Me: Of course not. But's it's definitely a plus.
Note to ladies: the way to a man's heart is through astronaut ice cream.