"you guys are the biggest bunch of poontangs i've ever seen"...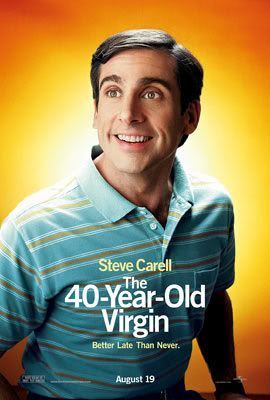 So I attended a screening of Universal's
40 Year Old Virgin
last week. Pretty funny premise, best poster of the year, hilarious
international trailer
, historically funny cast (including faves Steve Carell and Catherine Keener)...average movie. It actually made me feel really old coming out of the movie theater because I heard people saying that it was better than
Wedding Crashers
. Not quite, guys. A funny movie in parts, no doubt. But more like barely squeaking a double when that trailer promises a homerun. I'm going to try to check it out when it comes out next month because I think it could be a lot better if they shave about 10 to 15 minutes off of it. Some scenes just run waaaay too long and lose the laugh too quickly. Unfortunately, Paul Rudd (so good in
Wet Hot American Summer
) gets stuck in most of them.
But, anyway, like the geek that I am, I often go to the messageboards for a movie on
IMDB
after I see to it because I like to see if A) anyone's seen the movie yet and B) anyone's as big a geek as me. Much to my chagrin, I went to
40 Year Old Virgin
's page to find a full-scale barrage of comments, not really about the movie, but about if it's
cool
or
not cool
to be a virgin. Yes. A GIGANTIC NERDATHON!! For your reading pleasure, I'll reprint my (unedited) faves:
jughead10m No there is nothing wrong with that. Its hard to kiss one anyway and I personally never never never want to kiss one because that is something that you just don't do at all period. I personally never want to kiss or girl or be kissed by one, & never want to have sex either so there is nothing wrong with being a permanent virgin for the rest of your life.
strwbryfieldz4e The best advice I ever got was, have as much sex as u can while you are young cuz when u get old u don't get none any more
jughead10m (again)No there isn't anything wrong with that, (not kissed anyone or chose not to), I have that right, I have that constitutional right, you can't just approach anybody you feel like and kiss them, those females don't like it, they don't like it and I don't like it that is the crazy sickening lip kissing or that tongue kissing which is sexual kissing before you have sex plus I don't like falling in love with anybody either I would rather have my freedom and independence and do my own thing and thats my right. Fungazi Good observation leif. Most men do not choose to be virgins like women, they just aren't normal enough to meet a girl that would sleep with them. Man's natural instinct is to sleep with as many women as possible, woman's is to get a man that will be able to support healthy kids. Makes me wonder why there are so many sluts in clubs. LoL ReggieChrist321 It's sort of the opposite for me. I'm only 19, but usually any girl who would outwardly come out and say she wanted to f_ck me I would find too unattractive to f_ck. I'm partly too damn shy to ask the good-looking girls out, especially when all I want is sex, but I'm not giving it to some ugly girl just because I'm not getting any from the nice-looking ones. peace-amp-love1089 I agree. I know someone who's older than forty and a virgin [no they aren't part of the church] and they dont even look like that. HEY ALL YOU STUPID PEOPLE THAT MADE THIS MOVIE: that's not how virgins look or dress or act. so this movie is completely inaccurate. they make virgins sound like no good. im seriously pissed at SCguaquino Im not a virgin since i Was 16. And let me tell you, my life became 300% better after that! Go get laid people, its THAT good! bioburner You guys are the biggest bunch of poontangs I've ever seen.DirkDiggler1 Just because people choose to have sex before tying the knot or just because people choose to have threesomes doesn't mean they're repugnant evildoers who devoid of morals. And by the way, I'm not a virgin because I choose to be—several girls have wanted to be my girlfriends, and one even ASKED me as to whether or not I wanted to go out with her—I'm a virgin because I don't have the balls to walk up to girls, let alone ask them out. Help put "Boogie Nights" on the list of the top 250 movies!!! Wrestlgamer11 hows the jr. high girls treating you Ryan1991, no wait you don't even have hair on your balls yet, your in way over your head, go comment on the Free Willy posts
AND THE GRAND PRIZE WINNER...
sstevecompton im 11 and im a virgin, i totally know what you mean