desperately dusting off movies from eons ago...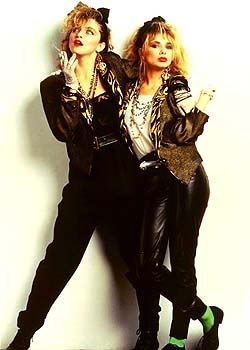 Did you hear the news?? E! Entertainment Television and Sony Pictures got together this week and didn't invite us!! They had a few beers, talked about their golf games, did a few lines off a couple of strippers' stomachs from Jumbo's Clown Room and came out of the meeting with a deal struck to finally bring some feature-film movies (with actual A-list stars and lighting and stuff) to E!, promptly busting its feature-film acquisition cherry. 'Bout time.
Personally, I was all ready to pull out some whip-its, start chugging moonshine and fire a few bottle rockets into the La Brea Tarpits until I saw "the lineup:"
The titles in the package include "Mystic Pizza," "Fargo," "Desperately Seeking Susan" and "The Birdcage." "Fargo" will be the first of the titles to debut; it's set to air the week of Aug. 22.
Are you freakin' serious??? These are the kind of movies I see at the Goodwill Store in barrels underneath stuffed animals with the arms torn out. What the hell happened?? Did E! send Bill and Ted back in time in their elevator to rent an assortment of moderately popular VHS movies from Blockbuster that everyone had forgotten really existed? Is there an Island of Forgotten Movies? I mean, damn it!! I think I last saw
Mystic Pizza
at a drive-in, for Christmas sake! It was so terrible I just left my car there! Just walked off and left it!

E! Unwraps First Movie Package Deal (Yahoo)
Tags:

E!
Mystic Pizza