someone's been to the giant inflatable middle finger store...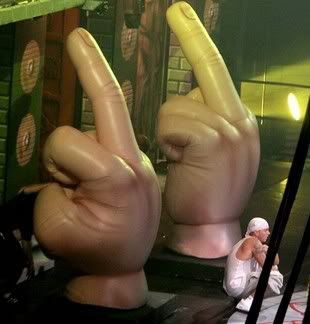 You know that this exact conversation had to go down at some point in the pre-production phase of Eminem's
Anger Management Tour
:
"Em, dude, what you want on stage, man?? We got the production designer here. She's got, like, blueprints and ideas and shit."

"Yo, check it. I've got the best idea ever, man."

"Ahhh, snap. What up?"

"Giant inflatable middle fingers, man."

"Yo yo, I got you. Like big ones, right?"

"Huge. I want the nosebleeds that spent $100 a ticket to see 'em."

"Yea-ahhh!! The bomb, yo!!"

"And then I'll come out at the beginning and squat down in front of 'em."

"Aight. Sing it, son."

"And it'll be, like, dudes, I'm really pissed off. And they'll look and see the giant inflatable middle fingers and know, like, how pissed off I really am!"

"You're a genius."

"I know. Dude, here's some cash money. Go to the giant inflatable middle finger store and buy, like, a dozen. Just in case I want to jump around on 'em until they pop."

"Aiiight. I'm out, Em."

"And then come back and get Bizarre or Havoc to help you blow those things up. I got to start practicing and stuff."

"Got it, yo."

(Editor note: WTF man! Where can I buy these stupid things? All I can find is this
Giant Noah's Ark Slide
. And this
Airbot fighter thing
(which is admittingly awesome). But I doubt any of that will get me the streed cred giant inflatable middle fingers surely bring.)
Tags:

Anger Management Tour
Eminem
Giant inflatable middle fingers