obviously, shrek will do anything to sell a few more dvd's...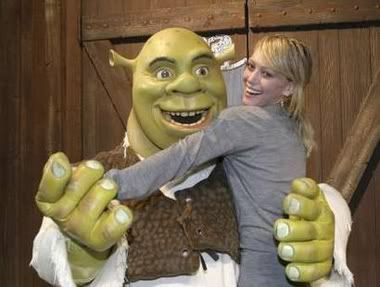 Once this picture hits the mainstream media, trust me, there's going to be nothing but carnage. Lindsay Lohan will see it and call Shrek wanting to "meet up."
Mr. Potato Head
will see it and start peeling himself in despair. Joel Madden will see it and wonder why Hilary didn't "invite him to Shrekland." Princess Fiona will see it and start banging Donkey.
Star
,
US Weekly
,
In Touch
and
OK Magazine
will see it and instantly get into a cover-war claiming Hilary's pregnant with some kind of deformed Shrek fetus. An Ogre Pregnancy Watchdog League will instantly get angry at the magazines and cry out, "Why can't ogres procreate with whichever Hollywood tart they please!!! Leave them alone!! And, hey, thanks for giving us something to complain about! Finally!!" FOX will see it and want to start a reality show in which, after the birth of Shrek Jr., the entire Shrek family drives around America acting ogre-like while doing odd jobs. Haylie Duff will get mega-pissed because, hey, she kinda looks like a cross between her sister and an ogre. All the ogres will hear that Haylie said
that
and get angry and be like, "Hey now, we don't look
that
bad." And then they'll ALL meet up in a dusty Western town church, draw guns and have a Mexican standoff in which they'll kill each other off in a blaze of glory, Bon Jovi-style. And all because of one "innocent" photo-op. It will happen.
Tags:

Hilary Duff
Shrek