ozzy cheated on sharon with a cow...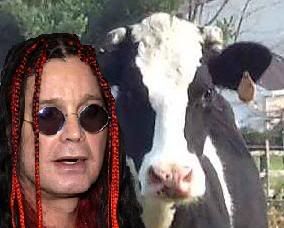 Not a big surprise here, but Ozzy Osbourne is one freaky dude. It came out today that he cheated on Sharon the day that baby Jack came home from the hospital. Okay, he really didn't cheat as much as pull the ole Robert Downey Jr. um-whose-bed-is-this trick. According to
the Sun
, Sharon describes the strange incident in her memoirs:
Ozzy was loaded when he got to the hospital. Then he collapsed and went home. My assistant popped in to see if he was OK and found him in bed with the nanny. She wasn't a beautiful blonde — she was an ugly old cow.

If I learned anything from
Mary Poppins
, it's that I'm pretty sure British cows aren't designed for babysitting. Cows are meant for grazing, eating, milking and tipping. Even if you did decide that a cow watching your newborn could be anywhere in the ballpark of good ideas, wouldn't you want a hot, young cow for the position? Personally, I'd want the hottest cow in the neighborhood because I'm competitive like that. But I wouldn't make Ozzy's mistake of allowing the cow to live in my house because I would be afraid I'd be magically influenced into falling in love with the cow like the dad in
Poppins
. Especially if the cow sings songs to birds, cleans up toys by pointing at them and flies around with an umbrella. What's not to love, magic or not, when that's the case.