dakota fanning still talking bout old crap...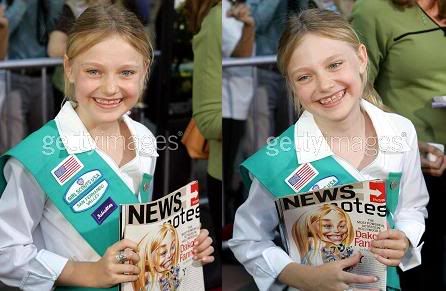 Just when you thought Dakota Fanning couldn't get a bigger head in "the business," she goes and pulls something like bringing a
two-month-old
issue of
Entertainment Weekly
that proclaimed her as the "Most Powerful Actress In Hollywood" to
her own
movie premiere.
AND TOTALLY REDEEMS HERSELF!!!
Hell, I'd be doing the same thing. I once got all A's in third grade and I'm still carrying around that report card. I don't think it's helped much in my job interviews, but I always hope they recognize the struggles I've been through to keep from losing an 18-year-old piece of paper. Come to think of it, I should really laminate it. Do laminating stores even exist?