a short public service announcement about drinking/video games...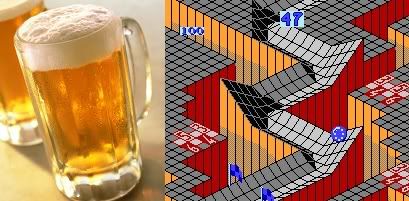 Please trust me on this. I'm not all about stupid celebrity gossip tidbits. I'm about caring as well. So listen up. Whatever you do, don't let friends drink and play
Marble Madness
on 8-bit Nintendo. You might think that it's doable, that you can manuever these weird little orbs down a hill and through tubes and over bumps successfully, but it's not. It's downright maddening. Especially when you get down to the place where the rubber hammer thingees start trying to break you. Or the black marble starts being a douche and trying to knock you off for absolutely no reason at all. Or at the end where your marble is all of a sudden in space and paths start disappearing and reappearing again!! WTF indeed. It sucks. So, of course, don't drink and drive. But, also, don't drink, drive and play
Marble Madness
because it's really really hard. And geeky. But more hard than geeky.