jessica alba really cares about fat people...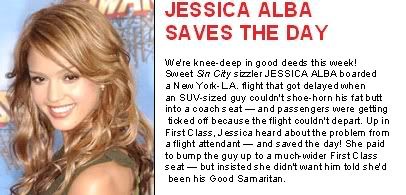 Excuse me for being insensitive, but this is the worst PR gossip ever. It's not sexy at all. It's actually very unsexy (which is a Hollywood publicist's worst nightmare). When I hear about Jessica Alba having a big heart and bailing fat people out by buying them first-class seats, that doesn't make me want to go see her upcoming movie,
Into The Blue
, also starring
intense-jetskiing
Paul Walker, at all. It makes me want to get fat and somehow end up on an airplane with Jessica Alba. Then maybe she'd finally realize how deep our love goes. But I don't always trust these stories so I'm not going to start funneling Ben & Jerry's Chunky Monkey just yet.
You want to know how this PR gossip story could have been spun to get more butts in the
Into The Blue
seats? This would have been an option:
Jessica Alba is sexy. So sexy that when the "Into The Blue" beauty boarded a New York-L.A. flight that was delayed because no one would sack up and sit in the exit row, she took matters into her own, wait for it, sexy hands. Quickly gathering the attention of her fellow passengers, she promised that the first guy who volunteered to sit in the exit row would get a 5-minute makeout session with her. With tongue. When the lucky man came rushing forward, she pushed him into his longer-legroom seat and started passionately kissing him. This continued for about 4 minutes until the ravenous pair violently knocked against the exit door and both fell out of the airplane. Luckily, Jessica Alba broke the young man's fall. Unfortunately, she died. (But, hey, you can still check her out (in a bikini!) in Into The Blue, coming to theaters September 30th).

See?
That
would make me want to see it.
Jessica Alba Saves The Day
[National Enquirer]