paris hilton is 2 fast, 2 furious for the popo...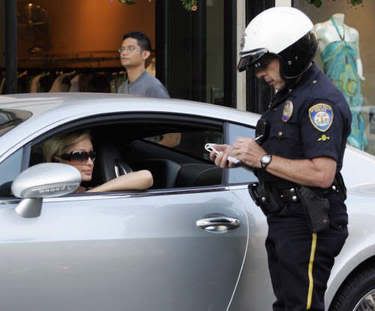 Continuing in her relentless and creative efforts to get photographed at any cost, Paris Hilton was pulled over for speeding on Rodeo Drive in Beverly Hills today. Which, for those who know the area's traffic patterns, is seemingly impossible unless you're driving some kind of flying hovercraft. But, hey, if anyone can do it, Paris can. And she did, reportedly, to the tune of two tickets: one for speeding and one for not having a license plate. Do you think she took the financially minor slaps to the wrist like a woman? Good heavens no. She instantly teleported back to the use of middle school etiquette and blamed her B.F.F.'s, the paparazzi.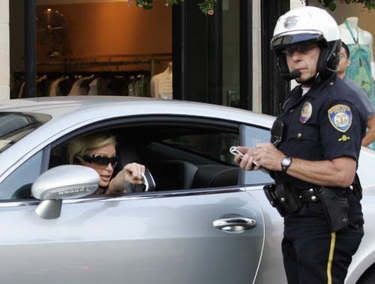 "Those cameramen followed me and made me go so fast, Officer. And there's a porno out there with me in it and I can't have whatever friend I choose in the next season of
Simple Life
and my fiancee's parents hate me even though it's a sham and my acting is terrible because I have to memorize lines and I gave away my dog because it got too big and waaah waaah waaaaaah!!!!"
Oh come on. She
totally
said all that.