kate & tom cruise's alleged new lair looks nice...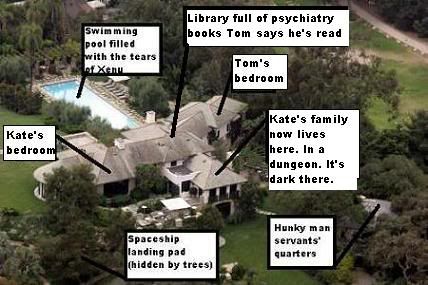 I always imagined that Tom Cruise's house would have a drawbridge and a moat and some random zoo animals grazing the yard that he believed were Scientologists in their past lives. But this one, which he allegedly just bought in Santa Barbara, looks pretty...normal. And it's just two doors down from Oprah's house. So he can always walk (or teleport or whatever he does) over and borrow eggs or sugar. Eggs made of gold and finely granulated sugar personally flown in from the Barbados, of course. But the principle of borrowing still remains.
Using the scientific method, I took the hypothesis that "Tom Cruise is obviously insane" and made educated predictions of the amentities his new home might include. Until Tom either does an episode of "Cribs" or he kidnaps me and holds me hostage there, I will never be able to get to the testing phase of the method. Just know that if the latter does happen and I call you up to say robotically, "Hey, I'm just having a fun ole time here at Tom Cruise's house," I'm not. In actuality, he's probably holding a samurai sword to my neck and force feeding me Frosted Cheerios while I wear a gorilla costume. Wait a second. That
does
sound like fun. Nevermind. Disregard everything I just wrote.