jack bauer would have cut the correct wire...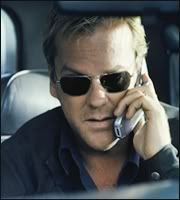 Guys, someone
cut the wrong wire
(aka cable).
And it caused my ride back from the Arby's drive-thru to be twice as long as normal, due to the traffic lights being off. And that, in effect, caused my cheddar on my Arby's Beef & Cheddar to coagulate. So now, I'm freakin' pissed off and looking for answers on CNN. Give me answers, Wolf Blitzer!! No spin!! Answers!!
In all seriousness, I just tasted my Arby's Beef & Cheddar and it's completely ruined. I hope the incorrect cable cutter is happy.
EDIT:
I just saw the President say these exact words on "The Situation Room." It was a clip from his address down in New Orleans today:
Reporter: Where were you when you realized the severity of the storms?

Bush: Uhhh, I was...I knew a big storm was comin, uh, on Monday. That's why I spoke to the country on Monday morning...about it. I said, "There's a big storm coming. I had presigned emergency declarations in anticipation of a big storm coming. (interrupts questioners to finish) Which by the way is extraordinary. Most emergencies the president signs after the storm has hit."
Uhhhhhhh huh.