when rocky met jeff spicoli...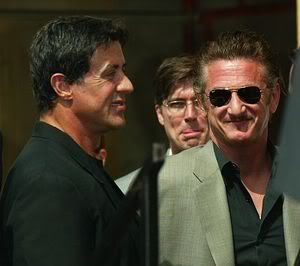 Here we find two acting greats, who mysteriously have never appeared in a film together, meeting up for the first time today in Hollywood. Although Penn looks weirdly uncomfortable, I fully understand because I've heard that Sly is a
close talker
. But...this finally gives me the chance to do this:
Sylvester Stallone was at
Mike Medavoy
's Walk Of Fame Ceremony (2005) with Sean Penn
Sean Penn was in Mystic River (2003) with Kevin Bacon.
Yes. This is what I think about when I see pictures like this. It's very very nerdy. But the guy behind them in the pic is thinking the same thing. Look at how he's licking his lips.
"This closes so many gaps!!"
The Kevin Bacon Game is serious business here in Hollywood.