rest in shoddily made Swedish pieces...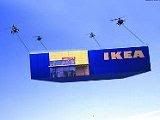 This
really scared me when I first glanced at it. These poor people died from an IKEA store being dropped on them by helicopters???
That would rank up there with death by Phil Collins as the worst way EVER to die.
But I looked more closely and saw it was just a stampede for IKEA coupons.
That made me feel better. Not satisfied. But better.