this guy has a jean jacket at the perfect man premiere...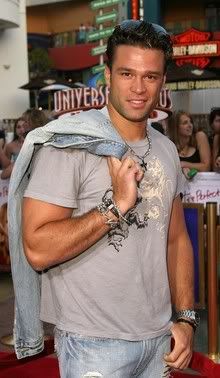 LAAAAAAADIES!!!
Hey guys. I have a secret. Come here...a little closer...closer still. Shhhh.
I bought this jean jacket at JC Penney's
. Yep. It totally looks broken in and vintage, right? Nope. Forty nine bucks, man. Bought it this afternoon. I totally hit the friggin' jackpot on this one. I know this is my first one and all, but I think I'll have to integrate this jean jacket into my red carpet wardrobe from here on out. It's lucky as hell. I just smell it. I'll wear it out. You know, if I get tired of it, make some jean shorts out of it or something. Or a bandana, even. YES! BANDANAS ARE AWESOME!!
OMG, there's Heather Locklear, dude. DUUUUUDE. I wonder if she saw my jacket. Man I hope so. You know that she saw the guns. Who could miss these babies? I've been practicin' the perfect red carpet stance for weeks. Oops. My sunglasses almost fell off. Must remember. Sunglasses on head. Jean jacket over shoulder. Sunglasses on head. Jean jacket over shoulder. Man, I wish I had some dough for some popcorn. Screw you Curious George parking deck. Ten dollars for parking my ass.
Oh snap. I just realized...my jeans
totally
match my jean jacket. Unreal.