angelina jolie is like gollum, pope...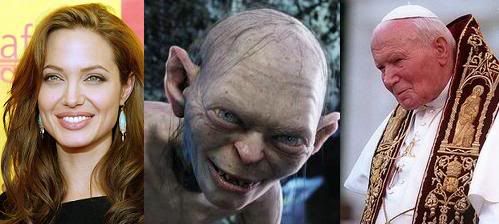 Sometimes, celebrity PR is like a seesaw. Earlier today, it came out that Jennifer Aniston has been comparing
Angelina Jolie to Gollum
in casual conversation. I guess this would mean that Brad Pitt is the Ring and Aniston would be Frodo?? Hell if I know. But the fact that there's really no Gandalf in the equation made me lose interest quickly. Until...now. Jolie's daddy, Jon Voight, has piped up in the "Who Does Angelina Remind You Of War" because
his relationship with his daughter is so great
he's got a flick coming up. Whose name dropped? If you guessed the recently deceased Pope John Paul II,
you win a Pop Tart
:
I know how he (the pope) behaves with people and my daughter has the same response to people; she likes to interact with people.
Generalization Police!!! Wooooooo!! While we're at it, let's just go ahead and start comparing Angelina to Jesus. He loved interacting, right? But not the bloody Jesus like in that Mel Gibson movie. More like the sneaky Jesus who tells you to turn your head and then filches your boyfriend. Or the one that steals babies but tells everyone they're adopted. Or the one that says, hey, I'm totally not going to steal your WWJD bracelet idea, but goes behind your back and does it anyway!!! Hahaha, I'm just kidding about that last one, Jesus. We're cool.
EDIT:
Wait a sec. The Pope is dead and Gollum died in some lava. Was Angelina in some kind of
Final Destination
incident with both of them that I didn't read about?