dawson extremely leery about losing his woman...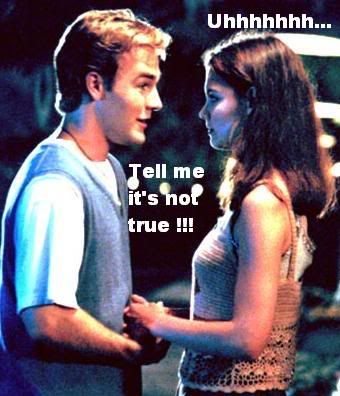 Today's Imaginary Last Chance Conversation Between the Dawson and Joey Potter
Dawson: "It's in the
newspapers
.
Pictures are everywhere
. I just want to hear it from you, Joey."
Joey: "Yep. We're dating."
Dawson: "Because you are my best friend, my first love, the only girl for me, forever and ever and ever and ever..."
Joey: "Yeah. About that..."
Dawson: "Now you're being taken away from me by some movie actor."
Joey: "He's a movie star! Didn't you see
Top Gun
?"
Dawson: "I have the
Top Gun
poster!"
(He, of course, starts crying.)
Joey: "That's not enough, Dawson. It's true. Tom Cruise (yes,
this guy
) is more of a man than you. I choose him."
Dawson: "OH GAWD NOOOOOOOOOOOOOOOOOOOOOOO!!!!"
(Insert
Shawshank Redemption
-like crane shot of Dawson holding his hands up to the sky as the wind blows and rain pours down upon his sorry sorry being)