tara reid might have stolen my cell phone...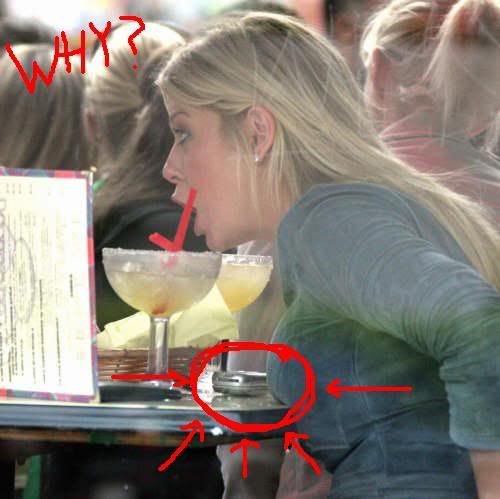 I'm usually not one to start hurling accusations at stars of movie classics like
Alone in the Dark
or
Body Shots
, but:
I do believe Tara Reid might have stolen my cell phone.
There. I said it.
On the
pains in the ass list
, losing one's cell phone has to be near the top. You lose all your numbers you've built up, all the pictures you might have saved, etc. And cell phone companies LOOOOVE when people lose their phones. Because it usually means that, unless you had loss insurance on it, you're either A) buying a whole new one for an assload at retail price or B) you're getting another one cheaper but you have to sign your celluar soul away for a longer contract.
So, NOW, not only is the cell phone company screwing me but Tara freakin' Reid is screwing me too?? I'm sorry to be so
middle school
about this but, NUH UH. I ain't down with that.
The evidence is out there. Both Tara and I were at
Cabo Cantina
this past weekend. And in all the pictures, a cell phone that looks a helluva lot like mine is sitting in front of her.
Maybe Tara and I drunkily ajolted like in
Freaky Friday
and she picked up my phone by mistake? Maybe she was eyeing my phone the whole day because it's bright and shiny and she likes bright and shiny things? Maybe I gave it to her as a drunken gift and I didn't know it?
I don't know. I just know I want my cell phone back, Tara Reid. I've always defended you when you've sloshed yourself all over Hollywood burping and laying your boobies out everywhere. But this is where I draw the line in the sand. Right in front of my cell phone. Which you may or may not have stolen.
I just want the truth to come out. Everyone
please
spread the word. And, Tara, call me. Because I've tried calling you and you ain't answering my phone.
(Pic via EVERYWHERE. Seriously, Tara, everyone knows.)