the god of home depot...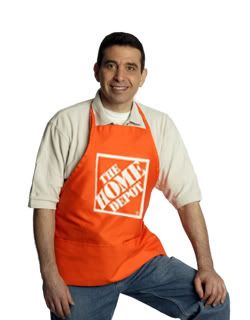 I Will Kill Your Entire Family In The Name of Home Repair !!!!!!!!!!!!!
by: Home Depot guy

I am the god of Home Depot.
I don't play around. Your home might be just
your home
to you. But to me it's a freakin' baby that needs to be spanked into a heavenly paradise of home efficiency. If you don't believe me, look at my damn vest. Do you think you just find these in the the shopping carts when you walk in the door? No, asshole. This ain't Walmart. This is Home Damn Depot. And this vest means I work here. I freakin' earned it too. There was an initiation period with hazing, trials, tests and an all-night binger in which I had to lay down some kitchen tile with my face. You probably say, "Waahhh...that's awful." But I did it because home repair is in my veins and I'm shooting up every damn day. Step to that.
If you ring the bell at my station, you better have a good question. Or at least some luscious ta-ta's. Because there's nothing I hate more than someone wasting my time--and countless others's time who might need my
actual
help--by asking where the power drills are or what size bulb fits in a refrigerator. Do I have Onstar written on my damn face? No. Seriously, it angers the hell out of me. I just might forklift you to death for that.
Girls love guys who know home repair. Therefore, girls love me. Because if there's a Home Depot Knowledge Pyramid, I'm at the top ass of it, laughing at everyone with my toolbelt glistening in the Sun. Little serfs at the bottom would come groveling to my Pyramid door, whining, "Please, puleez, help us!! Teach us!!" I'd just laugh and throw sawdust in their eyes. And then probably eat their faces. Because I don't have time for that shit. I have important duties.
Lastly, don't ever ask for my autograph while I'm on the job. That's the ultimate sign of disrespect. You might as well just sign your death certificate with a Sharpie. Because I'll be coming at you full-force with a nail gun, a screen-door and Ronnie from Lumber. And we don't front. We won't even call your family afterwards. We'll just bury your body somewhere in the store and mail the only map to Istanbul. We're that hardcore.
And don't ever ever ever ever forget it.