don't go chasing water mains...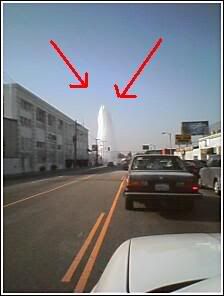 I was making my daily trek south on Highland Avenue today when I saw this very strange sight. My first thought was, "OMG, Los Angeles has totally hit an iceberg. I knew it. Women and children first!"
Then, as the procession of cars slowly moved towards the montrosity of something-or-other, it became clearer. And much more AWESOME!!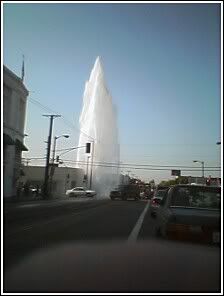 Apparently, two giant movie star egos collided into each other near the corner of Highland and Melrose Avenues and it blew a water main at least SIX STORIES HIGH.*
While firefighters were doing their best to tame the wild water beast, passerbys were taking pictures and calling their best friends from high school to tell them the news.
I stopped to ask the policeman on duty if I somehow could get myself up to the top and levitate on the plume, would he take a picture for me?
He said that I could not and that he would not.
Cops = no fun.
*That's how I imagined it. I think two cars hit a fire hydrant or something.