file these under "definitely not paying attention"...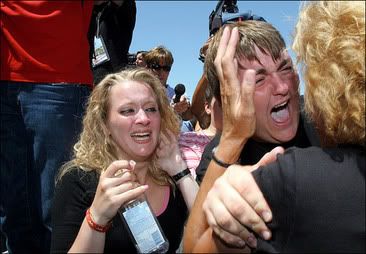 OH MY GAWD!!!!! I'M TURNING INTO A ZOMBIE!!!!!!
I swear to God that the
New York Times
has a crazy person detector that they just wave around at events. Case in point,
today's MJ article
has a few comments reading high on the wow-a-meter:
People have been trying to stop him for 20 years, to destroy his character, to destroy his name, and each time he's come back better, stronger, unbreakable," Mr. Reece said. "This man came to court every single day, strong as can be. I'm ready to party. I'm going to party for a week.
When he says "this man," he's gotta be talking about his fellow MJ fanatic Earl, right?? Right? Okay, maybe this dude has the answer:
Black folks are accustomed to sleeping in the same bed, especially if you're five or six deep and you live in a two-bedroom house because it's all we can afford," he said. "Michael is accustomed to that kind of behavior, you know, slumber-type parties.
Uhhhhhh...Michael is also accustomed to climbing trees. But if he started molesting one, I'd
still
tell him to stop.
(Crazy ass pic via
NYT
)