Lisa Loeb's reality show makes 14-year-old me happy...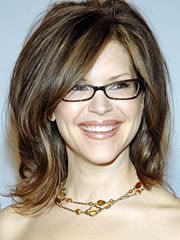 As if I didn't have enough things on my to-do list, now I have to add "Start My Own Reality Show" thanks to today's news of the January 2006 premiere of "
#1 Single
." If there was any way to program that show into my Tivo today (like RIGHT NOW damn you!!), I would.
I so would
.
My reality show, though, would be called "Follow Lisa Loeb Around To See If She Loves Me." Because as a 14-year-old boy, frequently transfixed by the music video for "Stay (I Missed You)" during the entire year of 1994, Lisa Loeb had this alluring and magical power over me. I think I even had a dream back then that we were dating and I had bought the bed from
Bedknobs and Broomsticks
to cheer her up. She seems like the type of girl that loves traveling without the use of mass transportation. And, hey, if we end up getting into some wacky adventures with a bunch of animated animals, so be it. We'd write a song about it. And then we'd have multiple babies with very poor eyesight to sing it to.
No, for real. If anyone knows where they're filming this thing, my email is to the right. I'm not saying I'm going to stalk her. But I wouldn't mind, ahem, following her around 24-7 until she realized we had the same tastes in the cool places to hang in NYC. Good stalkers blend in like that. Or so I've heard.