last night's huge stakeout at paris hilton's house...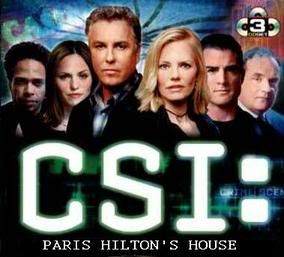 Is Paris Hilton at the center of a huge crime drama??
Why was there was a huge cavalcade of vehicles at Paris's crib in the Hills O Hollywood last night? Someone said it was for a noise violation, but there were like THREE POLICE CARS and TWO SUV'S outside. That's a lot of man power for a noise violation. Could it be linked to
Nick Lachey's disappearance
? The Lakers'
home opener loss
? The fact that her boyfriend, Starving Nachos,
poured a beer
on a homeless dude's head?
Pandemic Flu Dot Gov
?
INTERNET, I WANT THE TRUTH!!!
UPDATE:
Damn you, Internet
. I want a much sexier truth!!