pirates of the tonydanzaean...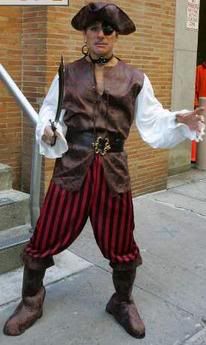 This conversation is just like that commercial where the college buddies call up their first college friend that gets a job and they ask him, "How many cookies do I have in my mouth?" But instead of just finishing college, this involves guys that have been out of college for 3 years now and do nothing but watch horrible daytime TV and still tell the worst jokes...
"Dude. Turn on
The Tony Danza Show
."
"No."
"Dude. Turn it on."
"No."
"Duuuuude. He's a pirate."
"That's terrific."
"Guess what his name is?"
"Tony The Pirate?"
"Actually, I don't know. But, probably, yes."
"Is he talking in a pirate voice?"
"No. He's using his regular Tony Danza voice."
"Typical."
"Now he's singing with some guy dressed up as Judy Garland."
"Terrible."
"Dude, what's the capital of Thailand?"
"That joke doesn't work over the phone, man."
"Damn."