if you value sanity, don't buy this new dvd for your girlfriend/wife...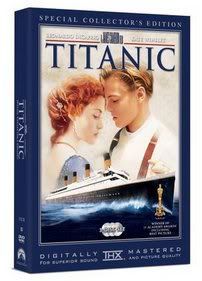 Here's how it started (HOURS AGO!!!):
"Can we watch it when we get home?? Please!! Please!!"
"Uggggghhhh...please no."
"Come on!! Please!!"
"Aw right. Just the extra footage. But not the entire movie. I can't watch that three-hour thing again."
"YES! Okay."
"Promise?"
"I promise."
This is meant as more of a disclaimer for all boyfriends/husbands everywhere. This DVD has, at my most recent estimation, about 8 hours of extra features. They. Never. End. James Cameron has pulled out the stops to ensure that
Titanic
lovers know every possible minute detail about the movie. I'm being forced, at knifepoint, to watch an array of documentaries on set and costume design. For Christmas sakes, if you're my real friend, reading this and have my phone number, CALL ME. I'll pretend that you're out of gas on the 405 or something and it'll give me an excuse to leave the apartment. I know what you're thinking. Hahaha...I'm so not even kidding.