shannen doherty is not dating matt leinart...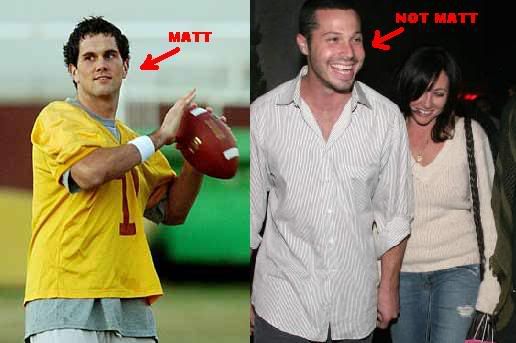 I'm not one to call shenanigans on
Page Six reports
, but the chances of Shannen Doherty dating
Matt Leinart
, USC quarterback and current king of the sports world, is about one in a billion.
Unless...he has the power to metamorphisize into little dudes that look nothing like himself. Because the guy we see her holding hands with above, on their way into the same Mood party, is not Matt Leinart.
To put it into more perspective, Matt Leinart is 6'5'', 225 lbs. Shannen Doherty, on her least angry days, is pushing about 5'4''.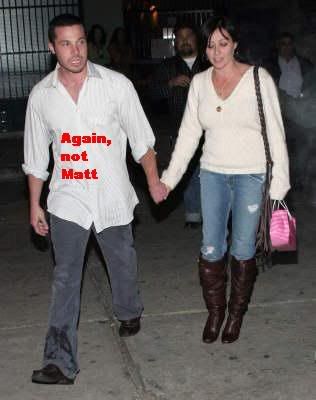 Now, I guess there is a very small (teeny tiny) possibility that Shannen could have done a run-by-make-outing after she got inside the club without Mr. Shorter-Dude seeing her. But why in the world would Matt Leinart make out with kryptonite like Shannen Doherty in the first place?? That's like eating some chop round when you have about a billion filet mignons calling your name from the fridge. Strike that. They're not even
in the fridge
. They're already cooked up and sitting on your freakin' plate. And you're practically the guy sitting on the beach in the Corona commercials. And you're gonna turn your back on that for some grocery store chop round?? Not gonna happen. Sorry. USC fans can now exhale.