fantasia barrino's pants are on fire, y'all...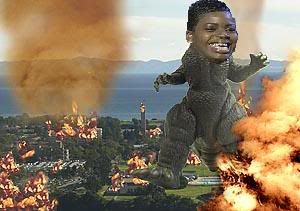 The only thing funnier than Fantasia Barrino's
Godzilla-like attack
on my hometown of High Point, North Carolina and some people's insane views of it being a stab in the back is this
unbelievably dumb website
that JUDO CHOPS!!!! her anti-HP bombs with a barrage of points, lackluster counterpoints and (most definitively) illuminating research:
In a totally unscientific study performed this weekend at the Oak Hollow Mall, Home Depot, Yamax, Chic Fil A, 2 Cookouts, 42 cruisers, we (Jennifer & I) asked 300 randomn [sic] people, "before American Idol 3, had you heard of Fantasia Barrino" a whopping 2 people had. from this, i can't understand where she was the "bad girl to everyone in town"

Once you've lost the Cook Out vote, you've lost High Point. That's the city's hub of milkshake consumption, y'all. She might as well be blackballed from ever stepping foot in town again. Or at the very least tied to High Point's own 80 foot-tall "
World's Largest Chest Of Drawers
" and mocked all hard-and-angry-like (aka some slurrin', a lil' spittin' while we tawk bout ya with the normal finger-pointin' thing). That's the Southern way.
In conclusion, hobbies much??
Bonus:
"Hey, she lied t'us. She did too got air!!"