i'll be back...with your family's dvd rental of big momma's house...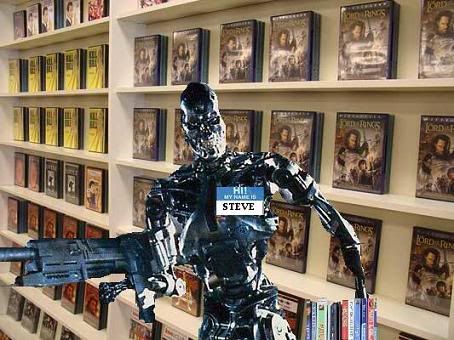 Could the following words be the prologue to
Terminator 4
??
Three billion human lives ended on August 29th, 2007. The survivors of the nuclear fire called the war Judgment Day. They lived only to face a new nightmare: the war against the machines. The computer which controlled the machines, Skynet, sent two Terminators back through time. Their mission: to destroy the leader of the human resistance, John Connor. Their other mission, to keep them busy while they were working out the kinks of that first mission: to ensure that Americans everywhere received their DVD's in a timely and convenient manner. That mission's codename was DVD's On The Run.
"Duh duh duh dit dunnuh...duh duh duh dit dunnuh!!" Oh, who am I kidding? This was all just an excuse to put a "Hi My Name Is Steve" sticker on a Terminator. I am obviously so very tired. Good night.