fat joe fails at easiest rebound ever...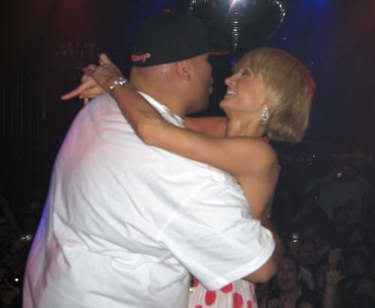 After thinking he had successfully wooed her with his large collection of oversized shirts and sweet belly-shaking dance moves, Fat Joe tried to move in on the recently-single Paris Hilton in Las Vegas this weekend. Unfortunately, when Fat Joe made the approach for that all-important first kiss, Paris did the unspeakable (at least, you know, for her): SHE LAUGHED IN HIS FACE!!!
So, in embarrassment, Joe promptly ate Paris, her sister Nicky AND the thousand-or-so clubbers who unfortunately witnessed the event.* Allegedly. Thank you, Fat Joe, for turning a negative for yourself into a positive for the world.
*With proof being this photo, one member of the paparazzi did survive. He was spared because he was "very little and not very tasty-looking," a spokesman for Fat Joe said. Joke's on him, though, because that paparazzi was actually a member of the Keebler Elves who, when not clubbing in Vegas, lives in a hollowed-out tree full of endless and tasty chocolaty treats. Oh sweet sweet irony.