lindsay lohan should just buy stock in maaco...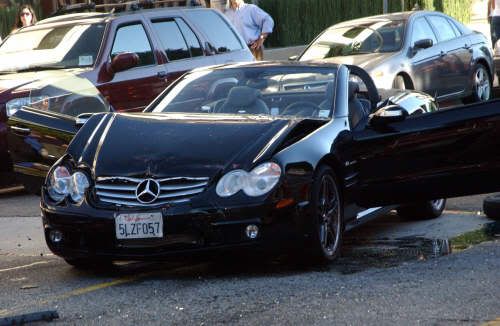 Even though her breast size has almost gone back to normal, Lindsay Lohan is still driving around our Los Angeles streets like it's the last lap in a NASCAR race. Today, she got into another accident driving the same exact car (but, of course, brand new) as her bangup
last time
on La Cienega, but just a
couple streets over
on Robertson Blvd. in front of Newsroom Cafe.
Besides the fact that she "hid out" at the Hideaway House, which is CLASSIC by the way, this is same old same old. I'm sure whether they're involved or not, the paparazzi will be blamed for her speeding. And the other guy, I hope, is okay. But it would have been much cooler if someone (or something) mysterious would have jumped out of the van once she hit it. Like a gang of clowns. Or a coke monster. Or a gang of clowns riding on the back of a coke monster. I'm not saying or insinuating in any way that LL has ever used or even seen coke. But, admit it, if you were an eyewitness and saw a coke monster with a bunch of clowns chasing her, you'd have to at least consider it.