steve carell's first ever movie role...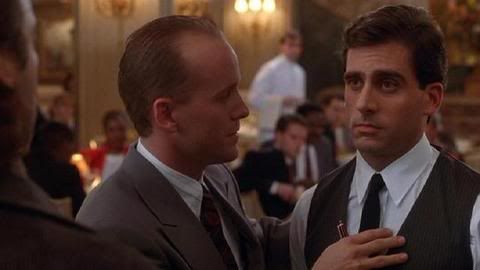 Why was Justin watching the terrible 1991 movie,
Curly Sue
(coincidentally the last movie John Hughes directed), on a Friday afternoon?
A) He's a loser
B) He's working on a project about really bad movies
C) He's scared of clowns
D) All of the above
If you chose D, you win, uhhh, this
Curly Sue
screencap of a 27-year-old Steve Carell in his first film role as Tesio the Waiter. He has 10 seconds of screentime and no speaking lines. He even discussed it briefly in this
USA Today profile
by saying, ""If you can spot me, I'll give you $10." So, for the next few weeks, because I'm a cheap bastard, I will be following Carell around town on my 10-speed bicycle looking for my reward. I'm not kidding. I'll even follow him in the snow if he decides to enter a skiing tournament. My bike has those capabilities.
"Ten dollars!! I want my TEN DOLLARS!!!!"