lindsay lohan needs an anti-paparazzi stick...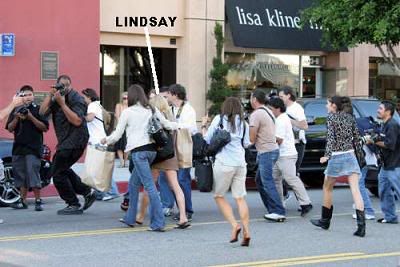 Looking at these pre-accident pics, there's NO WAY the paparazzi was in any way shape or form involved in Lohan's wreck. Gosh no. Unless you count the one photographer that was hanging from the side mirror. Or the other one that pinned himself to the undercarriage. Or that one chick that likes to jump off buildings into your backseat. Ahhh...good times. In conclusion, walking around Beverly Hills for some celebrities is exactly like that scene from
Dawn of the Dead
when they try to leave the mall. Only these zombies have huge cameras, smell worse and scream your name at the top of their lungs. Kinda makes you miss the brain-eating ones, right?