how am i supposed to care about nick and jessica when i still know nothing about the classmates.com couple??



I see them EVERYWHERE!! But beside the facts that THEY GOT MARRIED and have a gaggle of kids, the juicy details on their relationship are nowhere to found. Does he love her? Does she love him? Is she a wild child or is she really as intellectual as her spectacles suggest? Is she styling her hair now to make her look less dudelike? He's an idiot, isn't he? Or is he a smart jock? Did he accept a challenge to turn her into prom queen? Did he win? Is that how their love bloomed? Does he still have that V-cut shirt? Why does he part his hair so far over? Do their kids know how famous their folks are? Are they kinda pissed that the ad describes their beautiful union in such an incredulous manner? With a question mark AND an exclamation point?! Are they getting a cut of some serious Classmates.com dough, because they're undoubtedly the official faces of the brand? Have they leveraged that fame into any kind of book, TV or movie deals? You know what? How bout their names? I just want to know their names!!!!*
*Until then, their fake names will be Piper and Axl.
PIPER/AXL UPDATE:
Someone just sent me this. Now with 2 exclamation points and 2 question marks!!?? How far can they go?!?!?!?!

PIPER/AXL UPDATE 2:
Ohhhh, you can't fool me Sam From The Classmates Member Care Team!! Piper and Axl are real!! Real I tell you!! In real life and in people's hearts! You can't "act" or "employee" true love like that! What? Are their 7 kids all acting as well? The search continues...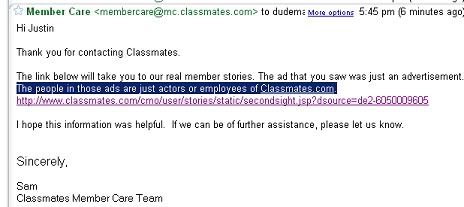 PIPER/AXL UPDATE 3:
Man, the internet is like magic. I love it.
Allegedly
, there could be a 20-year age gap between these lovebirds!! Just think, if we can somehow find Piper and Axl and have them somehow meet, it could be just like the end of
Sleepless in Seattle
. It would just click. Or something. Anyway, here's the latest possible 411 (according to comments):
PIPER =
Her real name may be Susan; maybe married to Edward and graduated in 1979
AXL =
Could have gone to Wall High School in NJ and graduated in 2001
OR
could have gone to Georgetown District High School in Georgetown, Ontario, Canada and graduated around 1998 or 1999
(insert Journey's "Don't Stop Believin" here)
PIPER/AXL UPDATE 4: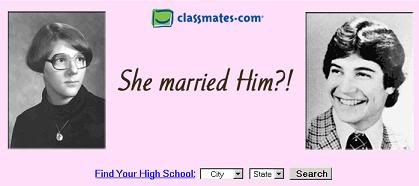 SLUT!!!! SOMEONE OWES EVERYONE AN EXPLANATION!!!
NOOOOOOO!!!! HE LOVED YOU, PIPER!!! AND GAVE YOU 7 KIDS!!!
AND THIS IS HOW YOU REPAY HIM????
WTFFFFFFFFF!!!
(I hope the number of F's properly portrays my disgust at this unsettling discovery. I'm going to take a couple of Advils and just lie down and watch Oprah. GOD NO!! LOOK WHAT THIS HAS DONE TO ME!!)
PIPER/AXL UPDATE 5:
Well well...look who just went and TRADED UP BIG TIME!!!

HIGH FIVE, AXL!!! You've turned a complete 180 and I feel that it's been for the better. Ta-dow, my man. Miss Goldiluscious should help you to forget Misswhathername in no time. As for the kids...well, they're forever. A permanent semi-ugly forever mark on your record. Good luck and godspeed, dude.
PIPER/AXL UPDATE 6:
Well...just look at this.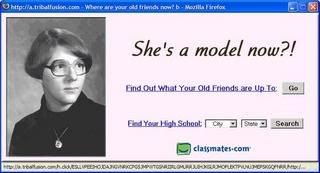 Piper: America's Next Top Model. I love how I'm now the point person for all things Piper and Axl. I get Gawker Stalker updates on their whereabouts at least once a week. I want to MEET THEM! I will not stop until I do. Their story needs to be told. It deserves a major motion picture treatment. Don't say you won't go to see "When Piper Met Axl." Pure solid gold.
PIPER/AXL: THE FINAL UPDATE (10/26/06)
After 385 days, 47 comments and roughly 18 emails, we've cracked the case. WE'VE TRACKED DOWN THE 2 MEMBERS OF THE GREATEST INTERNET LOVE STORY OF ALL TIME, PIPER & AXL!!!!!!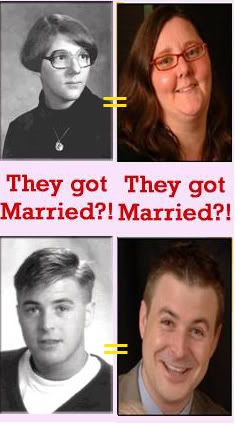 WOW. With the help of enterprising journalists, dreams do come true. I'd like to say hello to the real life "Piper" and "Axl." And I'm sorry, "Piper," that I didn't follow your bread crumbs (she left anonymous comments below) quickly enough. Read all about the not-married, un-seven-kidless couple
HERE
!!