borat might be cyberstalking me...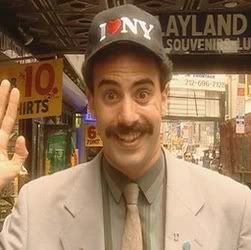 The background: this past spring, I interviewed for a position on an extremely secretive TV show in a nondescript office in Beverly Hills. They couldn't tell me the name of the show. But A) one of the big qualifications was that I would have to be able to lie to people to get interviews, B) the executive producer was British and C) they asked me twice if I had ever seen "Da Ali G Show." In the end, I didn't get the job. But everytime I think about it, I still believe it was an interview either for the secretive third season of "Ali G" or the supposed
Borat
movie.
Then, recently, this
Borat
adds me on as a Myspace friend. I quickly looked it over and found that, yes, that could be him. That's his picture and his home country of Kazakhstan right there. Or, since these facts are public knowledge, this could be a Borat copycat. Sneaky. So I accepted "his" friend request and waited...until today.
Putting on my "Murder She Wrote" cap, I hypothesized that if someone really wanted to get to me, they wouldn't mess with me. They'd go
around me
and mess with the people on MY BLOGROLL!!! Then, I saw the following Jdate email sent to and posted by the fabulous Miss
Super Jux
, just yesterday:

Hi, my name is XXXXXXX
Be not surprised to this letter, I have decided to write to you because has felt, that you, probably, which unique the woman I search for that also which approach me. In this letter I want to tell to you slightly about myself: To me of 33 years, I the young, attractive, cheerful man with a hansom figure. I live new york city of Bronx, But i come from West Africa Ghana Accra. I work as the Accountant in mining company, I like my work. At leisure I am engaged in sports , I go to campaigns, sometimes in theatre or simply I walk, like to listen to music and to read books. I search kind, loving(liking), reliable for the woman. It(she) should be the clever, interesting interlocutor, with sense of humour love children. The age, color of hair, a figure not so are important for me, the most important is his(its) character and the serious attitude(relation) to a marriage(spoilage). I hope, that you were interested with my letter and can see your answer. Mine E-mail address is, xxxxxxxx@yahoo.com
I wait with impatience, XXX
It's almost as if Borat banded together with
Dr. Clement Okon
to write a love letter. Half of me is laughing and the other half is thinking they will stop at nothing to take me down. Down to Chinatown!!! Please take this as evidence if I mysteriously disappear someday. Or if you see me in Chinatown and I look scared as if someone's taken me hostage. If that occurs, pay attention to my face, because sometimes I go there and eat good food and everything's cool. Sorry this is so complicated but this is my life we're talking about. Thanks.