eight reasons to go see kiss kiss, bang bang...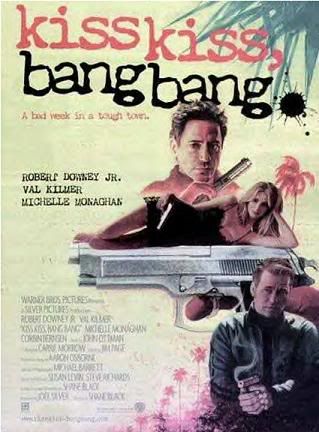 8. That friggin' poster. Holy crap. I'm not above saying I've been to see movies just because they had a cool poster. And
that
is a cool poster.
7. Writer/director Shane Black. I think I already covered this in my
Batman Begins
review this past summer, but...remember when you were a kid and you watched movies and they had those cool moments when you'd look to your friend next to you in the movie theater (that you'd snuck into, btw) and you both did the "Daaaaaaammmmmnnnn!!" face?? I remember doing that exact thing when I went to see Black's
The Last Boy Scout
. As an 11-year-old, that whole opening football field scene and the way if played out was AWESOME. I think I might have dropped my Skittles when it happened. And even though I love Skittles, I didn't care. It was a great opening scene!! Anyways, Shane Black (who also wrote
The Monster Squad
, the
Lethal Weapons
and
Long Kiss Goodnight
) is exemplary in writing those Skittle-dropping, "Dammmmnnnn" moments.
Kiss Kiss
has them by the bushel.
6. Boobs. It's got them. I'm neither a prude nor a guy that thinks every movie should have boobs. But nothing's worse than seeing a stripclub scene where you know the filmmakers were trying to limit the nudity. Strippers should not be wearing turtlenecks. If the main actress is as hot as
Michelle Monaghan
AND she gets naked, that's icing on the boob cake. And, let's face it, everyone loves boob cake.
5. Use of narration. This might be seen as a stretch ("you like a movie b/c of the narration??"), but this movie uses a narration in a way I've never seen before. Throughout, the narrator is constantly aware that's he's narrating a movie. So he drops hints, keeps a self-deprecating tone and stops and plays the movie at certain points. It's really weird and crazy and hard to describe. But good.
4. Corbin Bernen's in it. Anyone who loved
Major League
as much as I did knows that guy should have more work than he's been getting. And, lately, it's been none. Go him.
3. I might be wrong, but I believe most of the movie was filmed in Los Angeles. And behind the whole strippers in turtlenecks thing, nothing sucks more than watching an L.A.-based film and you look at it and say, "Dude, that's not L.A. That's Vancouver. Liars!!" Really. It throws me out of the movie. I hate it.
2. Val Kilmer. Has everyone seen
Real Genius
? If you haven't, rent it. If you have, you know Val Kilmer can be HI-LARIOUS. Sometimes I imagine myself in the future writing a really good comic script and hiring a bunch of actors (a la Quentin Tarantino) that haven't gotten the chance in the last few years to excel in the way I think they could. He will be towards the top of my list.
Val Kilmer should be making more comedies.
And he's like a fatter, puffier Val Kilmer now, which is funny in itself. He's perfect in this movie.
1. Robert Downey Jr. Truth be told, one of my favorite actors. When I think of RDJ, I think of the type of actor similar to old Chevy Chase. Like old CC, RDJ just seems lighting quick. In his movies, in his interviews...he's just a smart guy. And then he had all those troubles and it was like, "Stop it man. You're way too smart and way too talented to waste all it." And now he's back. And he's got that same zing you remember him having. And he's the BEST thing about this movie. He looks good, he looks like he's having fun and he pairs up perfectly with Kilmer. If they don't do more movies together, it will be a gigantic waste because chemistry like that doesn't come along in Hollywood that much these days.
In conclusion, don't go see
The Fog
. Don't go see
Doom
. Go see this movie when it comes to town (it's in limited release now). If you're not, at the very least, moderately entertained, you can blame me. I'll call you crazy and do the loony chicken dance (a la GOB from
Arrested Development
),
but you can still blame me
.