brad pitt heals world, makes it a sexier place...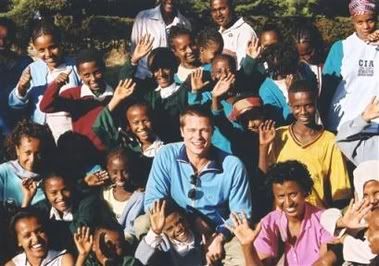 "Okay, guys. Raise your hand if you haven't been adopted by Angelina."
This is starting to seem like the time in high school in which I joined Key Club for a girl. I made it seem like I was all into it, and then, she was all like, "Hey, you're really good at this. You should run for Key Club President." That's when I was like, "Girl, the only club president I want to be is the president of Club You." Okay, I didn't say that last thing. But I
was
in over my head, just like Brad Pitt seems to be in this relationship with Angelina Jolie. She's got him narrating PBS specials now??
Talk about p-whipped
:
Starting Tuesday night on PBS and ending Thursday (check local listings), Pitt will narrate six hour-long episodes of "RX for Survival: A Global Health Challenge," which follows health care workers and researchers struggling to contain disease among the world's poor.

"I've been involved with the issue of poverty — I've been studying it for about a year and half now," Pitt told The Associated Press in a phone interview Monday from Calgary, Alberta. "I think one of the major causes of that is health, global health."
A year and a half now, huh? Hmmm...wasn't that about the time you allegedly started you-know-what-ing with you-know-who? Or not, maybe?
What led Pitt to this interest in poverty?

"I don't know," he said. "To me personally, it goes back to the will to understand and that's what we're lacking most. So I want to educate myself as much as I can to understand the situation, to understand the solutions."
Okaaaay, then.
Understand
seems to be the key word. So, I want to understand that Brad Pitt's heart has grown three sizes in eighteen months. I want to understand that he's a zebra that's changed his stripes. I do. But I also want to understand unicorns are real and that they're just hiding from me. Or that Skittles pop out of rainbows if we squeeze them hard enough. Or that Santa Claus is reading my blog and that he's bringing me a 72-inch TV for Christmas this year. No, really. Do we
understand
each other, Santa? Make it HDTV. And put it beside the window. Thank you.
Related: Brad Pitt Understands Beach Walking