Sniffing glue is the new whatever...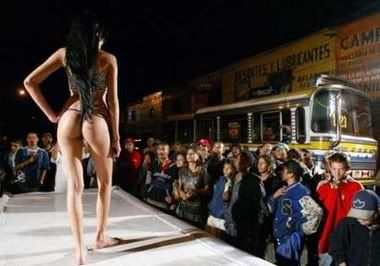 This
is one of today's most viewed/emailed photos on Yahoo. Most people won't even get past the model's hind quarters to read the surprising caption:
A model parades in front of street children, some of whom are sniffing glue, in the drug-infested 'Barrio Triste' (Sad Neighborhood) in downtown Medellin in Colombia November 7, 2005. The event was organised to entertain the children by a member of a local charity that helps children in Barrio Triste by providing food, clothes and cleaning facilities.
Finally, a charity I can get behind. (Rim shot) Get it? Okay, not funny. But neither is the fact that these poor children have to sniff glue
during
the naked model charity runway show to enjoy it. That's just terrible. Almost as terrible as this...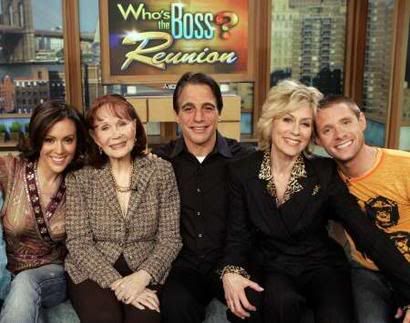 When "The Tony Danza Show" first premiered back in September 2004, I bet one of my friends here in L.A. that Tony would have a "Who's The Boss" reunion on the show within the year. You know, as the lastest last resort to get ratings. Well, guess friggin what?

Yep, that douchehole just lost me five dollars by going a year and almost two months! So today, like every day, is
No, Really, I Don't Care That Much For Tony Danza Day
.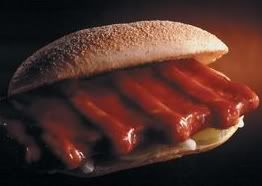 And, lastly, I want to bid a blegh farewell to the fast food sandwich that makes me throw up just to look at it:
The McRib
. Now, if McDonald's can stop confusing me by establishing some kind of regular double drive-thru window procedure, I'd be happier. The Taco Bell's first window has a lady whose sole job is asking what kind of sauce you want. She doesn't even give it to you. She just asks and punches in the data for the second window lady to give it to you. I'm thinking McDonald's needs something as worthless as Sauce-Choice-Lady. Cause she makes me smile. Maybe they could hire the glue-sniffing-kids from above to hand out straws in the first window? Then that would combine uselessness and charity, my two most favoritest things. Actually, someone in charge should hire me, just for that idea.