you're on my shit list for not accepting my high five, jesse metcalfe...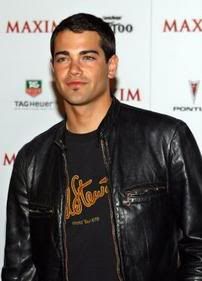 Dude. Seriously.
I just saw you at the
Farmer's Market
at the Grove. You were walking inside the entrance near Johnny Rocket's. I was walking out the opposite way with an enjoyable Frappuccino. I saw you coming from far away (I'm tall) and said to my friend, "It's Metcalfe. Dude got
Gabrielle Solis
pregnant, man!" So I began the high five motion in celebration as a show of manpower. You know, as in "good job mofo!" And what did you do?
You denied my high five.
What the hell, man? Not only did you
not accept
, you didn't even acknowledge the high five. I'm not crazy. Although I do it occasionally, I wasn't high fiving myself. This high five was intentional and it was disregarded like it was a pitiful low five. That was beat up, dude. You're on my non-high-five-acknowledgement shit-list. Party of one. Consider this a warning.
-Me
p.s. About your show, I hope the baby isn't yours anymore. I hope it is Carlos's and it comes out with a goatee and your non-high-fiving baby has to end up mowing his yard someday. Step to that.