unique phobia of the week...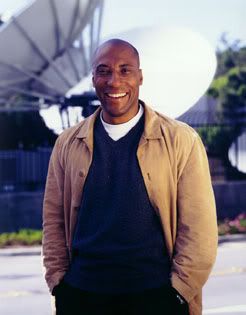 Okay. Don't laugh. But I'm scared to friggin' death that someday I might have to "kick it" with Byron Allen.
I mean...look...I consider myself a friendly person. I like meeting new people. Conversing with persons of different backgrounds is exciting. I love witty repartee in a badminton-esque manner.
But the thought of "kickin' it" just destroys me in a debilitating way.
I'm sure Byron Allen, in person, is a fun guy. But on his TV show, "
Kickin' It With Byron Allen
," he, well, isn't.
Number one: I don't think the show really has a time slot, per se. But it's a usually at a time--say, Saturday morning at 3 am--when Byron knows I will be unable to escape his tractor-beam-like charm. It's like the network operator said, "Dang, man. We're out of that footage of the flag flying in the wind. I guess we'll just milk some of that Byron Allen dude."
Number two: 90% of the show isn't even interviews. It's Byron's voiceover of who he's landed as interviews. "We got Mel Gibson coming up...hold on to your seats." "Jim Carrey's in the house...and it's rockin'!!" "Sandra Bullock just dropped by...hollah!!"
Number three: the interviews Byron does "land" usually are always strangely out-of-place due to time. Last week, I swear Byron was like, "We've got James Bond shakin' and stirrin', exclusively, with me next." I thought Byron had landed a big scoop on the new Bond until he came back with an junket interview, circa "
Living Daylights
," with Timothy Dalton.
Number four: his questions are picked out of a hat filled up by suggestions from mentally-impaired children. That's the only explanation.
Number five (and most importantly): the celebrities on his show always look like they were tricked into coming on (i.e.
the Seinfeld ep
in which Kramer turned his apartment into a talk show.) It's almost like Byron runs into Denzel Washington as Denzel walks out of the grocery store, says, "Psssttt...Denzel...come over here...behind this door"...and BOOM, he pulls out a camera, a few chairs and a mic. Byron always looks to be best bros with every single celebrity, but I strongly believe they're afraid for their life and looking for the nearest exit strategies.