good tv is everlasting, puppies just turn ugly...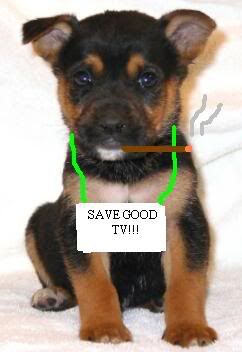 I was hoping it wouldn't have to come to this.
But I like TV more than puppies. Especially good TV (i.e.
Arrested Development
).
Soo....today, everyone should take advantage of their God-given
right to vote
. Go to the
USA Today website
and say, "Hey. Stop right there, man. I haven't voted with my viewership thus far. But give this show a chance. Because some day I'll be drunk off wine coolers or Natty Lite and think, hey, where the hell did
Blind Justice
go?? And the fact that it has been swiped from the viewing public prematurely will make me very drunk sad (which is btw the worst drunk)."
Seriously...do it.
Vote
.
Because if you don't I might just have to do something drastic to the puppy. Like draw a frilly hat on it. Or feed it more fake-looking cigars. And I know you don't want that. I don't want that.
So...go. Follow your heart. The puppy would want it that way.