time, love and tenderness (michael bolton update)...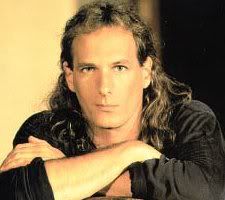 BOLTON VOWS TO "WORK WITH ALL" AT U.N
...
U.N.-VILLE (AP) - Michael Bolton, perhaps the greatest singer of truly crap pop songs, has decided to leave music behind and embark on his new career: Really Bad Out-of-Place U.N. Guy.
Taking a page from the band Color Me Badd, who joined the Peace Corps, and Frankie Goes to Hollywood, who instead went to Russia as mail-order husbands, Bolton says he wants to do good for his country. So
so
good. "I was sitting in my kitchen writing a song when it came to me. Man, I suck as a singer. Maybe I should go into politics."
In 24 hours, Bolton had packed up all his worldly possessions and was sitting on Capitol Hill, hoping to be the U.N.'s premier crappy-singer representative and
Soul Provider
.
The early feedback on Capitol Hill is mixed. Rep.
Bob Slydell
(TX), though, says people need to just ease up and "let the Bolton envelop your soul."
"I'll be honest with you, I love his music, I do, I'm a Michael Bolton fan. For my money, it doesn't get any better than when he sings "When a Man Loves a Woman," he said.
Bolton, no matter the opposition, is still optimistic. He's grown back his lion mane-like hair and he's been smoking Virginia Slims to get his voice ready. U.N., he's ready for you.
"How can we be lovers if we can't be friends?"
Well put, Sir. Well put.
See Also:
Supreme Court Rules in Little Girl Face Case