my one geek out post about rad...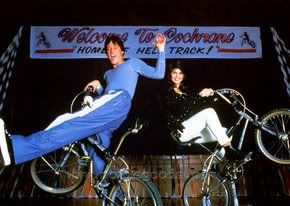 I heard the best Monday-morning-drive-to-work-song this morning.
And
you can steal it here
!!
My reasons for love are two-fold.
1. The song is effin good.
2. The song is featured in one of my all-time favorite films, the 1986 classic
Rad
. If you've been lucky to view it,
you know
. If not, you must track it down, bounty-hunter style. It's not on DVD. But it
might
be found in really deep catalog video stores.
The song plays behind the best scene in the movie. In it, the main character, Cru Jones, decides to take his BMX bike to the prom. There, he meets
Becky Donaldson Katsopolis
and they have a bike-off RIGHT ON THE DANCE FLOOR.
Best. Scene. Ever.