dirty thoughts about the waffle house...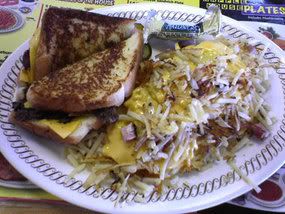 My List of Things I Miss From The South
10. Cheerwine
9. Gravel roads
8. Hushed puppies
7. NC BBQ
6. Southern accents
5. Bojangles
4. Sweet Tea
3. Seasons
2.
The Waffle House
1. My family
The placement of da House on that list should speak volumes about my undying love for it. I remember making my first cross-country trip and picking up the National Waffle House Map on the way. No Waffle Houses in California. Not a single one. I can't even get a friggin'
Cracker Barrel
in this piece, yo.
Why the love?
From the outside, it looks like any other slophouse, right. Oh no. It's a magical place. So magical I could make a movie about it (of course,
Justin and Some Other Guy Go To The Waffle House
). It's got charisma oozing out of its grease-soaked pores. Everything smells of smoke. The jukebox has a song called "Don't Touch My Hashbrowns." The waitresses all lived through both World Wars. The
menu is a work of art
destined for the Louvre. And the food is damn good at 2 a.m. Hashbrowns: scattered, smothered and covered, straight up!!
~This dedication of love was sponsored by this
amazing news
.