donnie darko pulls a fast one...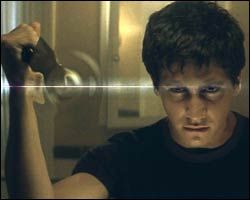 I have a good feeling I won't be invited to
this wedding
.
You see...
Donnie Darko
and I have one of those "love-hate relationships." I love his girlfriend. He hates me. Okaaay, I really don't love his girlfriend. But I do like to pretend that I do when he's around. Just 'cause he gets so pissy.
Some of you might remember
this incident
.
Then, I thought they were broken up. So...when I'd see Kiki at
the Coffee Bean on Beverly
or Donnie at the
Whole Foods on Fairfax
, I wouldn't
stir it up
like I usually would have. A smile and a wave. Sometimes even a head nod. But that's it.
Now, I see I've been taken advantage of like a middle school girl after half a bottle of Boons Farm. They were
never
broken up. They were just acting. Their best acting ever, maybe?? Well, all I have to say is: that is beat up, yo. You two are no fun.
I hope you have a nice happy life together with your 1.5
bubble-headed
,
bad-tennis-playing
,
bunny-talking-to
,
pre-pubescent vampire
children.
And I take back all the smiles, waves and head nods.
So there.